The
"Yak Attack"
Kayak Transport Boat at the dock.
Loaded for bear ... well at least snook and tarpon!
In the Barron River in Everglades City returning from a day's fishing.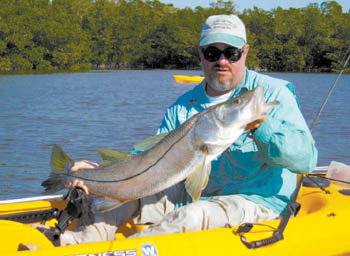 Capt. Wright with a nice 17lb snook before releasing her..


Nice Tripletail


Snooker Woman Vivian



Chip Murray of Tampa Bay with a nice Goliath Grouper.



Into the trout action ... "big time"!!



Fred Woodward of TX, with a nice snook.



Fly Fishing for Snook and Baby Tarpon.
These back country lakes in August are a blast. The Ultimate 14.5
make an excellent fly fishing platform. .



EKF Guide Rich Jones led this anglers to another nice "black water" snook.



EKF Guide Rich Jones leads Mike from Naples to a nice evening Red


Coldwater Redfish



Guide Rich Jones - Soon 9/9/07



Rich Jones -- Self Portrait 9/17/07



Rich Jones -- Self Portrait 9/17/07



Rich Jones -- Self Portrait 9/17/07
There series should be titled - "The Many Faces of Rich Jones"
The man does catch fish!!



Terry Zeider with a ~ 8lb bonefish from one of the original Lower Keys
Special Destination Trips ... click fo more info


\
Bonefishing the Content Keys



"One Last Cast" Steve ... Come on it's time for
a cold adult beverage.



EKF Guide, Capt. Jason Sine with a nice "bronze" redfish.



Typical Creek Snook



"Bowed Up" on his first snook



Will H. from Indy with "Ol One Eye" that he wrestled from a creek!



A motley crew!



Johnny and Jackie



David "Wildman" Carr of Chokoloskee.



Heading up the creek (with our paddles) to the tarpon lakes.



My personal favorites



Brian K from "Way North" on a "Chokoloskee Sleigh Ride"



EKF guide, Rich Jones led Marc to this nice redfish.



Marc likes gag grouper as well.



EKF Guide Rich Jones, with a nice snook.



A 1929 Mother Ship - The Iva W



Capt. Wright with a Janurary redfish on fly ...



Brian Rothman with a snookie



Saw-Toothed Bonefish




Aerial Shot of the Third Annual Everglades Kayak Fishing Paddle-In
in Feb of 2007. This years event will be Feb. 23, 2008
for more info see the EKF Events Page




Nice Snook Rich !



What is this?