Kayaks, Camping and Crocodiles
by Capt. Charles Wright
Regularly we take guests on the Yak Attack to unique, remote destinations into the Everglades National Park. She is a kayak transport boat with six outfitted fishing kayak nestled in her bow.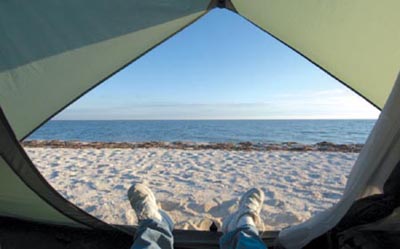 We transport guests, gear and kayaks at 35mph to locations where the yaks are deployed for a guided kayak fishing trip for snook, tarpon and redfish. On most of these trips, we deliver the kayaks to places that yak anglers rarely, if ever, can get to. These are normally a series of day trips where guests are back at the dock in time for dinner at a local restaurant and a good night's sleep at a local hotel. About once a month or so — or whenever anglers want to — we do multi-day overnight camping trips into the park.
Our most recent trip was to Jurassic Park and the NMZ north of Lake Ingraham. When we turn south out of Chokoloskee into the park, it is 77 miles to the next piece of modern concrete. Our camping destination on this trip was the Sable Beaches, 50 miles southeast of Chokoloskee, a spectacularly beautiful part of our planet.
This trip was posted on the website and scheduled for early February. We had quite a mix of folks on this trip: a power company executive, a fishing guide from Wyoming, a family of three from Jacksonville and a carpenter from DC. Unfortunately, the carpenter had a bad experience with a saw and could not make it. Capt. Bruce Hitchcock and I left Chokoloskee on a Thursday about noon, loaded to the gunnels with gear. You see, this is not a typical kayak camping trip where weight and space is a premium. No sir, not with Yak Attack. We carry five coolers filled to the rim, a full camp kitchen, canopies, camp chairs... you get the idea. We arrived mid-afternoon on Middle Cape and quickly set up camp so we could kick back and enjoy a few adult beverages before the sun went down. We were to pick up our guests in the morning at Flamingo, but we had one last task: we had to get some fresh fish for the ceviche. About five casts from the beach and a few strokes with the knife and our appetizer was ready, a meal in itself.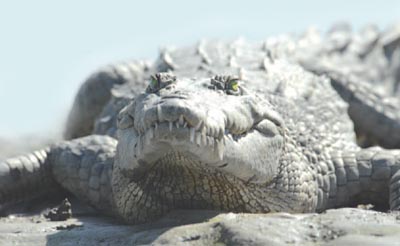 The fishing is supposed to be the main attraction on these trips, however, the meals around the campfire on a very remote beach with good folks is a big part of the experience for all.
Breakfasts consisted of Vickie's special breakfast burritos, whole wheat bagels with crème cheeses and guava jelly, OJ and coffee. Lunches were pretty basic as we were on the kayaks: peanut butter and jelly sandwiches, energy bars, peanut butter crackers and trail mixes. Dinner the first night was smoked fish on crackers with sliced onion and hot sauce for appetizers, compliments of Bruce's smoker. Hot homemade chili, cold fried chicken with potato and macaroni salads made up the main course. Chocolate éclairs were our dessert. The second night we had fresh triple-tail cevechi with blue corn chips, crackers and hot sauce (superb!), and lots of Vickie's homemade beef stew and a chocolate mystery dessert. Yum! We do eat well on these trips!
Oh yeah, the fishing. Bruce and I picked up our guests early Friday morning in Flamingo and brought them back to the camp. As soon as they were ready, we loaded back into the Yak Attack for the 20-minute run to Lake Ingraham. Deploying the kayaks, Bruce took Jim (the guide) and Doug (the exec) into one area and I took Chad, Patti and Hayden into another.
This was Patti's first time ever to paddle a kayak and Hayden and Chad's first time ever to use one to fish.
We took our time as everyone got used to the equipment and the environment. The place that we were fishing is a huge NMZ that is rarely accessed being a 10-mile paddle from the nearest launch. It's 10 miles from nearest entrance point, but there is an entire world beyond loaded with snook, redfish, tarpon and exotic sub-tropical birds.
It took a while for the guys to settle down and get into their groove. I believe that they were a bit overwhelmed with the place and really were satisfied to simply take things in. We spent a long time observing a few of the smaller crocodiles. These are some pretty pre-historic looking lizards that few ever get to see. The larger lizards are 16 to 17 feet but are very skittish and hard to get near.
Once everyone calmed down a bit, we all caught a bunch of fish: snook, black drum, redfish, trout but no tarpon this day.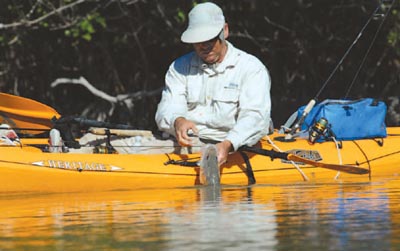 We met back at the Yak Attack about an hour before sundown. Bruce, Jim and Doug had better success with the fish than we did, but they could not have had a better time. We were all in shorts — yes, in February — and it was time for a warm fire and a cold adult beverage.
The next two days we did even better catching more fish each day. The fish also got bigger as the folks got better. Saturday I personally released 27 snook, six redfish and one tarpon. I released two more tarpon, but pretty far from the yak!
Sunday, we fished a half-day, returned to break camp and had our guests back at Flamingo at 4 p.m. and bid farewell, all still of talking about the next camping and fishing trip.
Bruce and I headed home in the Yak Attack just before dusk running in the dark for most of the trip. It was slick calm and a wonderful ride.
We all had a great time on this trip and you can rest assured that we will do it again next year. I love that part of the park, but there are many areas that are just as special but closer to home: Highland Beach, Darwin's Place, New Turkey Key, Mormon Key, Hog Key, Camp LuLu, and so on.
These destinations are less than one hour's boat ride so we leave out of Everglades City/Chokoloskee Island. There are no crocodiles at these campsites, but that is not all bad. You can count on good people, good times and good fishing.